In addition to her work with Cornish College of the Arts and MusicWorks Northwest, Kelley is available for private lessons with piano accompaniment at her Capitol Hill studio.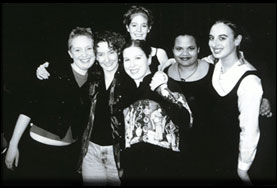 When I began studying with Kelley, I had only performed with choral groups and had never done any solos or individual voice work. Jazz was pretty new to me too. Four years later, I continue to be amazed at how much my voice and confidence have grown and how excited I am to learn even more about jazz, singing, music and theory. Whenever I feel stuck by a weak point, I listen to some old lesson or performance tapes as a comparison -- and WOW! -- Kelley's magic wand is everywhere! The newest recordings always sound better! Besides getting great results, she's a gifted and supportive teacher who inspires me through the process.
— Margaret Roberts

Kelley is one of the best vocal teachers I've had. She's able to help you quickly identify and correct the source of a particular vocal problem. I learn more and more about jazz and singing when I take her workshops, so I do so whenever I can.
— Kim Shinsato

Sundays noon - 4pm
cost: approx $300

Info: Offered at Kelley's home, this 4-week class concludes with a public performance at Tula's, Seattle's premier jazz club. It's a wonderful opportunity to develop material and play with some of Seattle's finest jazz musicians. Each singer works with the band on their own material, but you also learn from listening and watching each other. You will learn how to rehearse and communicate with the musicians, stylize a song, communicate a lyric, improvise, and transpose songs so they are in the right key for your voice.